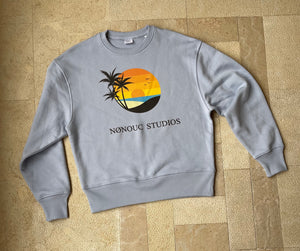 SALE - dieses Produkt ist reduziert und nicht 

retournierbar
PREIS 49,00 €
Reduzierte Ware ist vom Rückgaberecht ausgeschlossen
Nur Umtausch in eine andere Farbe oder Größe möglich
- zuzüglich Versandkosten
- MwSt ist im Preis inbegriffen
- Bitte beachten Sie, dass es außerhalb der EU zu zusätzlichen Zollgebühren kommen kann
PRODUKTINFORMATIONEN
100 % Biobaumwolle, vegan
- Unisex Größen
- Einfache Absteppung am Halsausschnitt, Doppelabsteppung an Ärmelenden und unten am Saum
- hellblau / Palmenprint / NØNOUC studios Schriftzug dunkelbraun
- Waschen bei 30°   
- auf links bügeln
- weitere Pflegeanweisungen sind am Produkt aufgeführt
Sollte etwas nicht passen, dann informiert uns per Email bezüglich eines Größenumtausches.
Kosten für Rücksendung des Produktes wird nicht übernommen
ZAHLUNGSMITTEL
Sofort Banking
Credit Card 
Paypal 
LIEFERZEITEN
Alle Bestellungen werden per Hand der Reihenfolge nach abgearbeitet. Die Lieferzeit beträgt ca. 10-14 Werktage (Mo-Fr). Wir bitte um ein wenig Geduld.*
Sobald die Bestellung versandbereit ist, wirst Du per Mail informiert.
* Bei der hohen Nachfrage wird jede Bestellung nach der Reihenfolge bearbeitet, so kann es für die letzteren Bestellungen zu einer kleinen zusätzlichen Verzögerung kommen. Zudem sind aufgrund der aktuellen Situation Zulieferer und Transportunternehmen beeinflusst. 
GRÖßEN
Unisex Größen
S ca.  56,5 cm breit x  66 cm lang
M ca.  59 cm breit x  70 cm lang
L ca.  62 cm breit x 72 cm lang 
-------------------------------------------------------------------------------------------------
PRODUCT DETAILS
100 % bio cotton
unique painting
light blue / front palm tree print and NØNOUC studios in brown
washing information / tipps are listed 
SIZES
Unisex Sizes
S ca.  66 cm  x  56,5 cm 
M ca.  70 cm  x  59 cm 
L ca.  62 cm  x  72 cm
We don't pay for the return costs

PAYMENT
Credit card
Paypal
DELIVERY TIME
Shipping is not included. QUALITY TAKES TIME - Everything is handmade and the production can take over 14 working days before shipping.
DHL Shipping Germany: 8,80 €
DHL Shipping Europe /UK / Swiss: 19 €  
DHL Shipping worldwide: 49,99 €  , Express 69 € (one week)
For orders being shipped outside of the European Union (EU), your order may be subject to import duties and taxes which are imposed once the package reaches the specified delivery country. Any additional charges for customs clearance must be paid by you (the customer) and we are unable to advise what they may be, please contact your local customs office for more information.