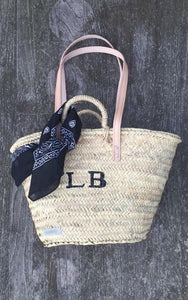 Personalisiere Dir Deinen eigenen Ibizakorb

Bastkorb ungefähre Maße : ca  51 cm x 36 cm x 21 cm

Korb mit Langem Lederhenkel und kurzem Kordelhenkel
Reißverschluss


Auf Anfrage sind auch andere Farben und Korbmodelle möglich (bitte per Email kontaktieren)
Bitte hinterlassen Sie Ihre Wunschinitialen beim Checkout oder via Mail


MwSt ist im Preis inbegriffen

zuzüglich Versandkosten
Bitte beachten Sie, dass es außerhalb der EU zu zuzüglichen Zollgebühren kommen kann
Dieses Produkt ist vom Umtausch ausgeschlossen.
Bezahlung via Sofort Banking, Credit Card oder Paypal 
Lieferzeit 14 - 21 Werktage !!Keine Wochentage!!  (Benachrichtigung per Mail, wann versandfertig)
Every single piece is created and painted by myself ♡


Da die Körbe handangefertigt werden ist jeder Korb ein Unikat. Daher kann es zu kleinen Abweichungen bei der Größe kommen. Bei hohen Gebrauch des Produktes kann es zudem zu leichtem Abblättern und Gebrauchsrückstände der Farbe kommen, doch dies führt zu dem gewollten Vintagelook.
Each bag is handmade. The baskets are made of strips of woven palm.  
Every basket is unique because the painting and decoration is handmade in Germany. The Tassel Chains are handmade in Spain and every Charm has an other color combination.
Approximate dimensions of the bag L: 51cm x 36cm x 21cm
Payment :


Payment at the check out with credit card
 or Paypal 
Shipping is not included
QUALITY TAKES TIME - Everything is handmade and the production can take over 14 - 21 working days before shipping
Every single piece is created and painted by myself ♡

DHL Shipping Germany 8,80 €
DHL Shipping Europe /UK / Swiss : 19 €  
DHL Shipping worldwide : 49,99 €  , Express 69 € (one week)
For orders being shipped outside of the European Union (EU), your order may be subject to import duties and taxes which are imposed once the package reaches the specified delivery country. Any additional charges for customs clearance must be paid by you (the customer) and we are unable to advise what they may be, please contact your local customs office for more information